Stairs & Stair Railings in Medford, MA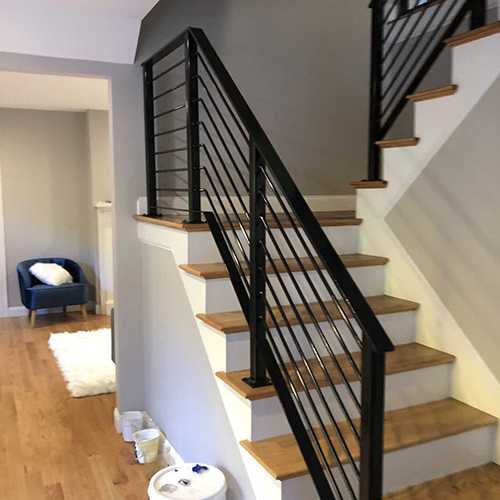 If your project demands custom-fabricated ornamental stair railings and stairs in Medford, MA, make the choice to partner with Santini Brothers Iron Works, Inc. We have an experienced staff of layout men, each with over 20 years' experience fabricating steel stairs and railing systems. From design conceptualization to fabrication and installation, we work with you every step of the way to ensure the finished product is a perfect fit for your facilities—safe, convenient and aesthetically pleasing.
Stair and Rail Products
Our tenure as ironworkers gives us the unparalleled experience to understand your project's needs and tailor customized products to meet them. We approach stairs and wrought iron stair railings in Medford, MA from design and functional perspectives, to guarantee an installation that's appropriate and durable.
Straight stair with platform
Scissor stairs with multiple platforms
Multi-story stair towers
Pipe railings
Wall rails
Custom designed wrought iron railings
Custom panel rail systems
Stair and Rail Services
Capitalizing on quality iron stairs and railings means understanding the expectations for them. We offer design, detailing, fabrication and installation of all stair types, aligned with your demands and vision for these products—from 3-riser stairs with standard pipe railings, to 10-story stair towers with expanded metal panel rail systems.
Custom design and fabrication
In-house detailing
Client support and design assistance
Installation
Stair and Rail Projects
Our portfolio is chock-full of successful projects involving practical and ornamental stair railings in Medford, MA. We're proud to have partnered with some of the area's most reputable businesses to provide infrastructure solutions that ensure convenient access and reliable safety to their patrons, workers, and visitors. Some of our pillar projects include:
Uno Due Go (Boston, MA)
Communispace (Boston, MA)
SGH (Waltham, MA)
Contact Us for Stairs and Rails
Santini Brothers Iron Works, Inc. is prepared to deliver exceptional stairs and wrought iron stair railings, alongside the support services you need to utilize them. We bid projects throughout the greater Medford, Middlesex County, and Boston, MA metro area, as well as regionally throughout New England. Contact us at 781-396-1450 today to see how we can help you with your next commercial or residential project, whether it involves railings, embedded steel plates, or some other steel erection job.