Shop Tour in Medford, MA
All the structural and misc. steel for our new 30,000 SF state-of-the art facility with a 4,000 SF office mezzanine was both fabricated and installed by Santini Brothers Iron Works, Inc. in early 2008.
The shop is equipped with the following equipment:
Peddinghaus FDB–1500 Plate Processing System
Peddinghaus F1170 Fabripunch
Hyd-Mech 20A Automated Saw
Marvel Series 8 Band Saw
Transfluid DB 2060 K pipe bender
Scotchman Ironworker
2 – 10 Ton overhead cranes
2 – 2.5 Ton Jib Cranes
15′ x 30′ paint booth
Ocean Avenger Plus MDL-1250
We have a CWI (Certified Welding Inspector) employed on site for your peace of mind.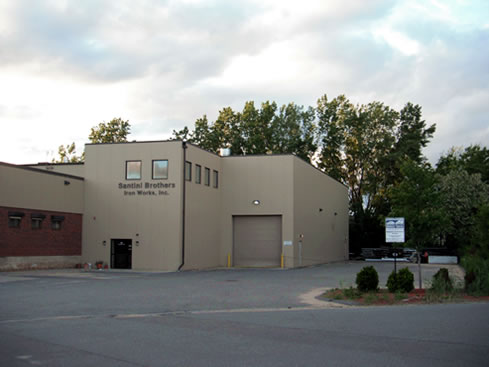 ---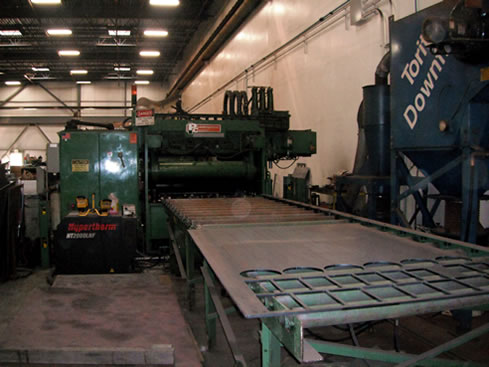 Peddinghaus FDB-1500 Plate Processing System
Our Peddinghaus FDB-1500 Plate Processing System utilizes a potent CNC nesting software with the technologies of high speed drilling of holes, contour thermal cutting via high definition plasma or oxy-fuel, and carbide part marking.
Material Size Capabilities:
75 mm (3″) Max Thickness
2500 mm (60″) Max Width
Stock lengths up to 6M (20′) can be run by one operator in a true One Pass Continuous Process
---
Peddinghaus Fabripunch F1170
Our Peddinghaus Fabripunch F1170 employs 160 metric tons – 177 U.S. – in a triple tool configuration to provide multiple hydraulic punched hole accuracy for miscellaneous detail components such as plate and angle.
Material Size Capabilities:
32 mm (1 ¼") Max Thickness
1500 mm (36″) Max Width
Angle iron up to 200 x 200 x 30 mm (8 x 8 x 1 1/8″)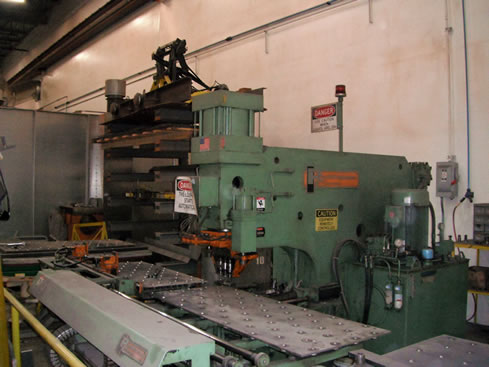 ---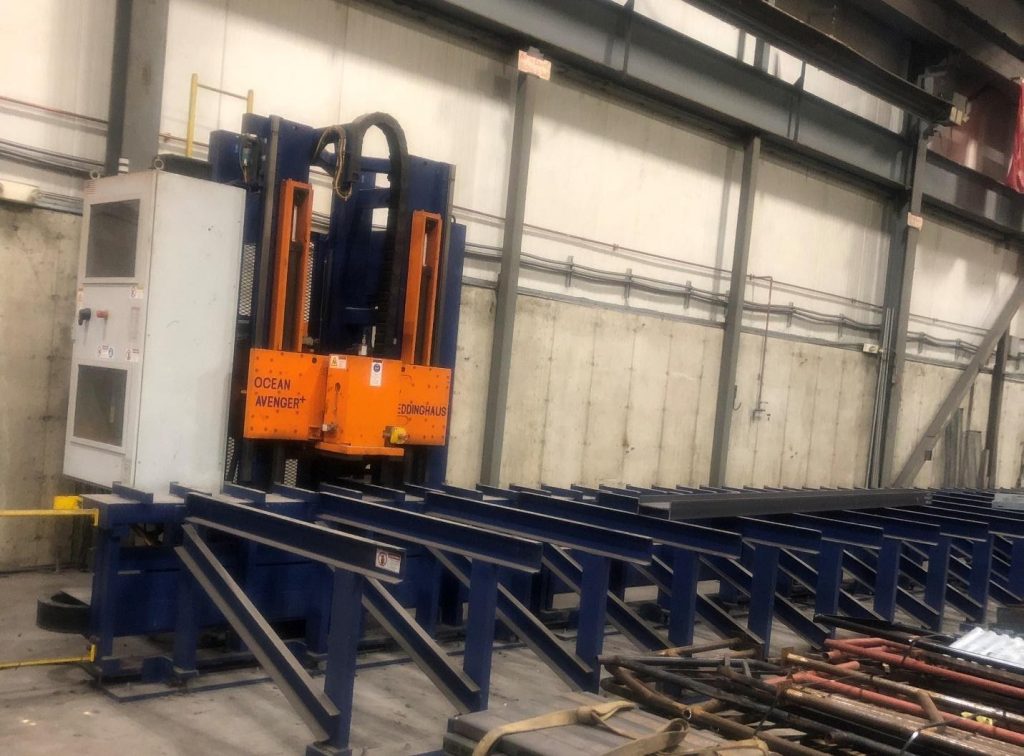 Ocean Avenger Plus MDL-1250 Beam Line
Our Ocean Avenger Plus MDL 1250has a table lengths 50ft. making it ideal for processing long profiles often used in the bridge industry. The Avenger PLUS has an 8 position tool changer. With tooling that can drilling, milling, scribing, threading and countersinking. Features 5 inches of "Sub-X" Axis travel. This means that the spindle is able to move 5" in the X direction and 48" in the Y direction while the part remains clamped.
Material Size Capabilities:
Process all profiles up to 48" in height.
1220mm (48") Max Height
Stock lengths up to 15.25M (50')
---
Hyd-Mech M-20A Automatic Band Saw
It features a powerful motor and gearbox with variable frequency drive to provide exceptional cutting performance on a wide range of material. The M-20A band saws standard PLC 500 control features a "go to" function which allows for automatic alternating between programmed angles. The M-20A miters from 90° to 60°.
Material Size Capabilities:
| Capacity | Rectangular (h x w) | Round |
| --- | --- | --- |
| 90° | 20″ x 30″ | 20″ |
| 45° | 20″ x 19″ | 20″ |
| 30° | 20″ x 30″ | 14″ |