Embedded Steel Plates in Medford, MA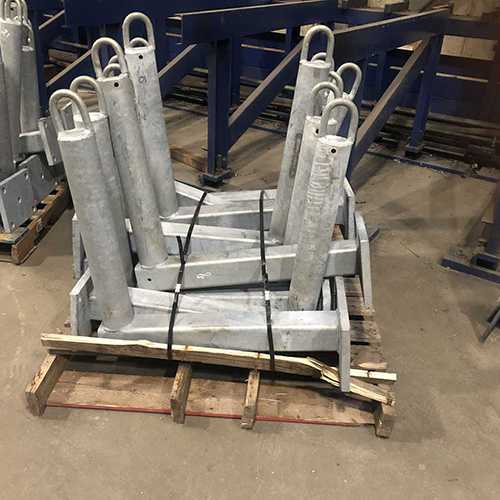 Santini Brothers Iron Works, Inc. bids on miscellaneous metalworking projects throughout the New England region. Backed by a state-of-the-art shop and team of skilled professionals, we handle projects in varying capacities—from simple pipe bollards to embedded steel plates in Medford, MA. We strive to understand the needs and expectations of our customers and deliver on them at a high level.
Misc. Metals Products
Our state-of-the-art equipment is strategically set up to fabricate miscellaneous metals parts and components in a timely and efficient manner. Our automated Peddinghaus® PlateMachine (plasma cutting) and Fabripunch® machines turn a 2-man/3-day project into a 1-man/8-hour operation. We have fabricated thousands of different types of misc. steel products with speed, accuracy and precision. We're confident there's no steel product we cannot fabricate.
Embedded steel plates with studs
Pipe bollards
Steel angle lintels
Embedded joist and beam bearing seats
Ledger angle
Steel ladders
Misc. Metals Services
With emphasis on understanding the design specifications and applied demands of your steel products, we take great care in delivering a complete scope of service. From the initial design consultation and precision fabrication, to in-house detailing and finishing services, we're equipped to satisfy the assorted needs of our customers. Plus, we have an extensive catalog of embed products to work from, giving us a starting point for comprehensive value-add services.
Misc. Metals Projects
Over the last few decades, we've been involved in a wide range of miscellaneous metals projects. During the nineties, we fabricated over 1 million embeds for New England concrete products. These pieces ranged from 1″ x 6″ stainless steel plates with 2–2 ft deformed bars to 1″ steel plate 36″ x 36″ with 8 – #8 rebar welded to them. Our portfolio of work is expansive, showcasing our ability to deliver against any expectation.
Logan Airport Runway 33L (Boston, MA)
Blackman Auditorium – Northeastern University (Boston, MA)
Precast Specialties, Inc. (Monroeville, IN)
Coastal Precast Systems (Chesapeake, VA)
Contact us for Misc. Metals
Santini Brothers Iron Works, Inc. is poised to take on virtually any metalworking project you have, regardless of specifications. Contact us today at 781-396-1450 to begin discussing your needs and learn more about how we can meet them. We welcome steel erection and decorative iron projects from throughout the greater Medford, Middlesex County, and Boston, MA area and throughout New England.