Bridge Railing Installation in Medford, MA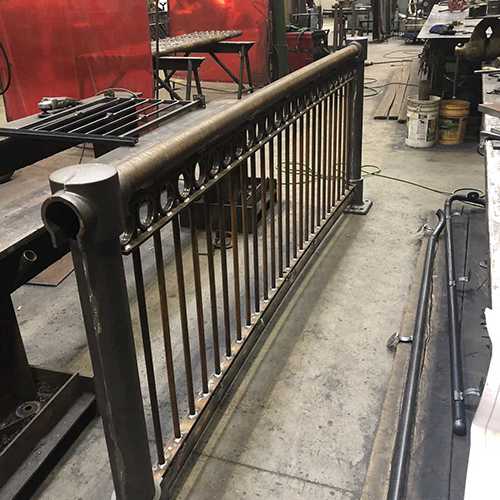 Bridge railing installations in Medford, Middlesex County, and Boston, MA and the surrounding region is one of the unique capabilities Santini Brothers Iron Works, Inc. brings to customers. Not only are we adept at working at the scale these projects demand, we're familiar with their unique nuances and expectations.
We've been building bridge pedestrian railings for over a decade. After extensive steel industry market research, we set a goal to diversify and expand our business. As a result, in 2005, we received our AISC certification for Standard Steel Building Structures and Simple Steel Bridges. AISC certification assures our customers that a trusted, reliable and capable fabrication company will complete their projects.
Bridge Railings Products
Our experience with bridge railing products stems from involvement on diverse projects, including both pedestrian and traffic railings. We use the highest caliber steel products to ensure durability, reliability and compliance with municipal safety codes. As a result, you can see our bridge railing products throughout the region, on overpasses, water bridges and other viaducts.
Type S3-TL4
Type S2-TL4
Pedestrian rail
Traffic rail
Bridge Railings Services
Beyond fabricating quality traffic rails and bridge pedestrian railings in Medford, MA, we're your all-in-one partner for putting these bridge railing installations to work! Work with us on your project to streamline the fabrication processes and consult with us for on-site support during installation. We'll make sure everything culminates in a result that's safe and reliable, no matter the scope of the installation.
Bridge Railings Projects
Our bridge projects range from a small 4 ft Type S3-TL4 bridge gate on Ipswich Street, to over 16,000 L.F. of pedestrian rail and traffic rail. With all bridge rail projects requiring a color galvanized coating, our proximity and stellar relationship with Duncan Galvanizing make us the right choice for a quality product, delivered on time. Some of our successful projects include:
Neponset River Bridge (Boston/Quincy, MA)
Ipswich Bridge Gate (Boston, MA)
I-93 Fast 14 (Medford, MA)