About Santini Brothers Iron Works, Inc.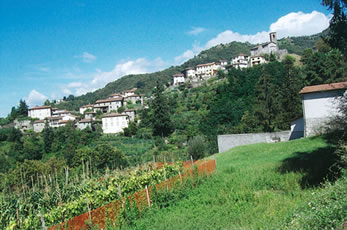 Our beginnings are rooted in a small village in Tuscany called Ceserana. In the late 1800's our Grandfather, Oreste Santini, opened a small blacksmith shop; mostly shoeing horses and repairing farm tools. Our Father, Alessandro Santini, followed in his father's footsteps and expanded into railings. In the early 1950's, Alessandro decided to move his family to America; to ensure his children a better future. Upon his arrival he worked for an ornamental iron shop. Even though he spoke no English, he knew his trade.
In 1969, Alessandro, his two sons, and his son-in-law started Santini Brothers Iron Works, Inc. in a small garage in Somerville, MA. Our first products were residential railings, because that's what our father knew best. He shared his knowledge with his son Lauro, who became our Residential Railings specialist. Though Lauro "retired" in 1999, he still handles most of our residential customers. Our residential customer base is mostly referrals from family to family.
John Santini joined Santini Brothers, Inc. in 1981 as shop foreman, and oversees all fabrication processes in our facility. Since then, we have expanded our railing business into Structural and Misc. Metals and Bridge Railings. In order to facilitate our customers needs and growing business, we relocated our shop to a larger facility in Medford, MA, where we serviced Boston and the surrounding areas with quality steel and iron products for over 30 years.
In 2007, we purchased our present location, at 28 Sycamore Ave, Medford, MA; a larger state-of the-art 30,000SF facility with a 4,000SF office mezzanine.
Today, the 4th generation is proud to follow our long tradition in the steel business. Mark Torriani, who currently manages our Structural and Misc. Metals Division, joined Santini Brothers Iron Works, Inc. in 1989 after studying Construction Management at Wentworth Technical Institute. Robyn Santini, a graduate of Suffolk Univ. with a degree in Business, is our Quality Control Manager. Joseph Santini, a graduate of Arizona State Univ. with a degree in Construction Management, currently manages our Bridge Rails Division.
We are proud of our long tradition in the steel business and attribute it to undying passion to provide our customers with first quality work and honest prices in Medford, Middlesex County, and Boston, MA. Contact us today for structural steel installations, bridge pedestrian railings, wrought iron stair railings, embedded steel plates, steel erection, decorative iron, and more.